Kate Steels nominated for World Open Water Swimming Association
11 Jan 2023
We are very proud to announce that our Masters swimmer - Kate Steels has been shortlisted as the World Open Water Swimming Association (WOWSA) Woman of the Year 2022. In 2021, Kate was awarded WOWSA Woman of the Year. It is exceptionally rare for anyone to be shortlisted in more than one year, especially two consecutive years and this is an amazing achievement.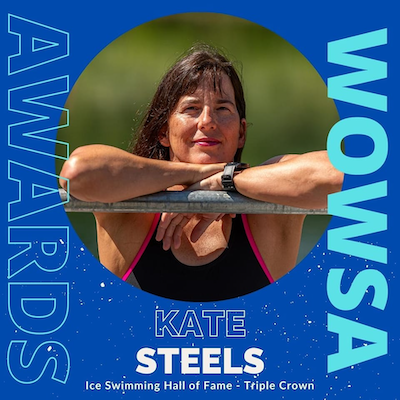 Upon the nomination, Kate said:
Absolutely thrilled, surprised and humbled to be shortlisted as World Open Water Swimming Association Woman of the Year 2022. I feel overwhelmed to be in the top 10 shortlisted for the second year running. I am grateful to everyone who has supported me throughout my swimming journey. 2022 was an amazing swim year for me with highlights being:
Inaugural 40km swim in the Danube, Romania - a new marathon route and part of the Romanian Triple Crown
14.5km Authentic Greek Marathon swim
Catalina Channel (USA)
Golden Gate Bridge - Alcatraz-Bay Bridge (USA)
Round Jersey (UK)
Pioneered circumnavigation of Coronado Island, Mexico

Tomorrow I head off to France to compete as part of Team GB at the 5th International Ice Swimming Association World Championships in Samoens, France and also attending as secretary of the Global IISA board. Good luck to everyone competing. Please, please can you all share this with friends and family too and consider voting for me.
Darren Whitt - Chair of the Trustees at WCPSC commented "On behalf of Trustees and Management Team at WCPSC, we would like to commend Kate on this nomination - she is an amazing inspiration to all of us. Many of our swimmers have been lucky enough to be introduced to open water swimming by Kate Steels and have loved the open water experience".
---